How Does a Plastic Drop Cloth Work?
What is a Plastic Drop Cloth?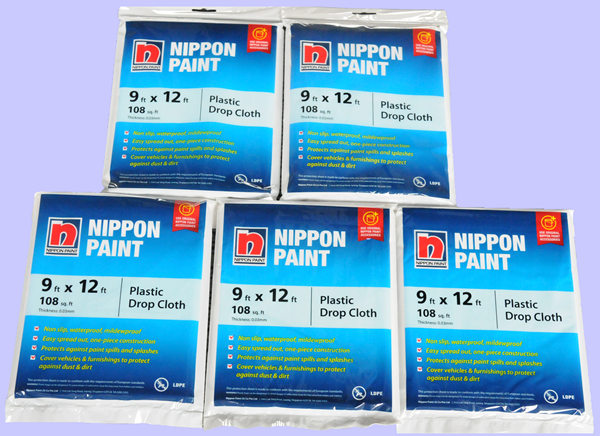 A PE drop cloth is a sheet of plastic that you can cut to fit any size room. It's the perfect product for your home that will keep your home clean and dry even when you're doing messy work. It's also the perfect surface for painting or staining- then simply shake it off into the garbage can after use! The purpose of this product is to keep the floor free from paint, dirt, debris, and dust, but it also has another very important function. It can also be used as a way to keep paint and glue from sticking to the floor. This is because it's made of PE, which is resistant to water and tear. This type of drop cloth can be used in many different ways: as a shield against dust, as a protective layer for other materials, for painting, renovations, packing up stuff, moving out of the house after a renter leaves. It also has different shapes, sizes, and thicknesses. The shapes are different for different purposes. 2m x 5m, 4m x 5m, 4m x 10m, 9ft x 12ft, and so on, 2 ft x 50 ft is great for small garages or entire rooms while 4 ft x 50ft is ideal for medium-sized areas. There are also square-shaped drop cloths that are suitable for the window.
How to Use Plastic Drop Cloth
One of the most overlooked things when cleaning up your house is to remove all the leftover scraps, paper, and other items that you have dropped on the floor. Even though they are usually harmless, they are still just thrown away. These items are often small enough to be stuck between your toes or under your fingernails, so it's not that surprising that you have stepped on them at some point. However, there is a type of plastic that has functionality that's more valuable than the others. It is made from PE (Polyethylene) is durable, flexible, and resistant to many types of abrasion.
1, In any paint or home improvement project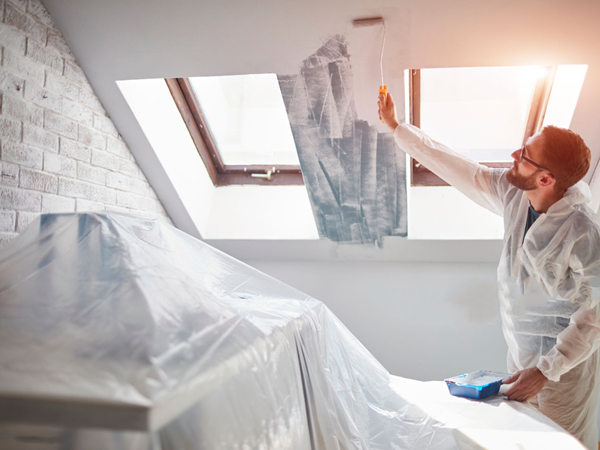 If you're looking for a professional finish, these PE sheets can harden your paint job and stop drips from ruining furnitures or floors alike. The Clear Polythene Painting Tarp provides complete surface protection of your floors, carpets, furniture against paint spills and splashes at your painting worksite.
2, For furnitures cover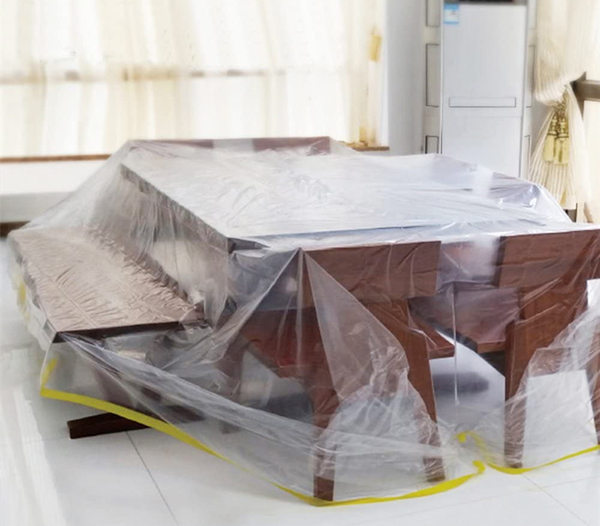 The Plastic Drop Cloth is the simplest way to protect any surface in your house. You can cut it to size and cover just about anything with this miraculous sheet of plastic! You think it's time for a deep clean? Cover EVERYTHING before you get started so that when you're done, all your furniture will be the same as before.
When you want to go on a long trip, worried about the home appliances, sofa, mattress moisture, or dust, you can't carry your home with you, so you can protect your home by picking up a clear drop cloth. For Furniture, Appliances, Windows, Couch, mattresses, or bed Cover, keep them from getting dirty and messy with these convenient dust sheets.
3, For greenhouse cover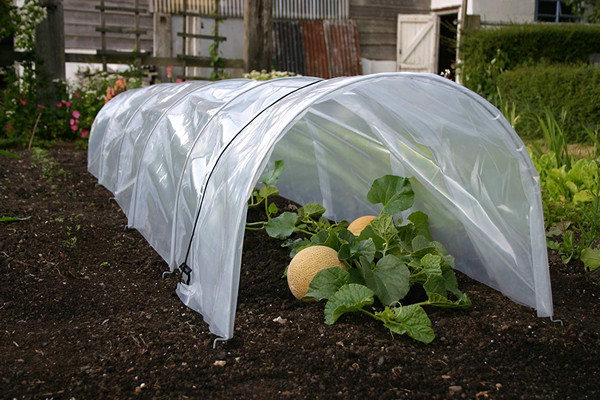 Maximum protection for your greenhouse and garden gear - the PE sheeting creates a barrier between you and cold drafts. Because they offer great protection from the elements like snowstorms or monsoon season. This sheet is flexible enough to fold up and transport to the garden without ripping, but also durable enough for a very long time for covering garden plants and vegetables against inclement weather and infestations. it is best to choose a thicker sheet so that the warmth is better.
4, In DIY Project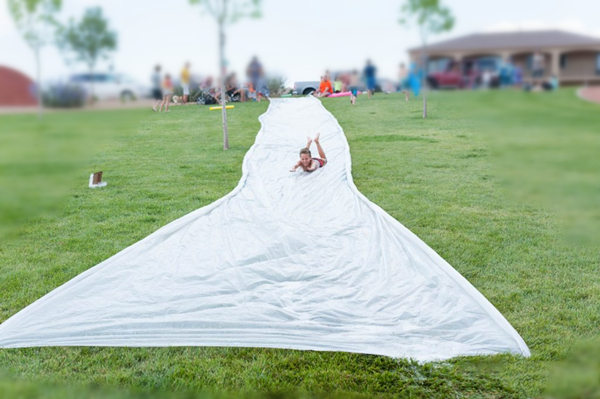 The Poly Sheeting is a great DIY project. With this sheeting, you can make slides for children, There's nothing like splashing and splashing around in the sun with friends, 6 MIL will be better than 5 MIL to ensure the strength necessary to hold up under heavy use.
The Process - How Plastic Drop Cloth is Made
This drop cloth is made by extruding polyethylene. Polyethylene is a type of reusable plastic that is used in many different ways. It's also used in water bottles and food containers. It's also used in automobile tires, toys, and even in rubber boots.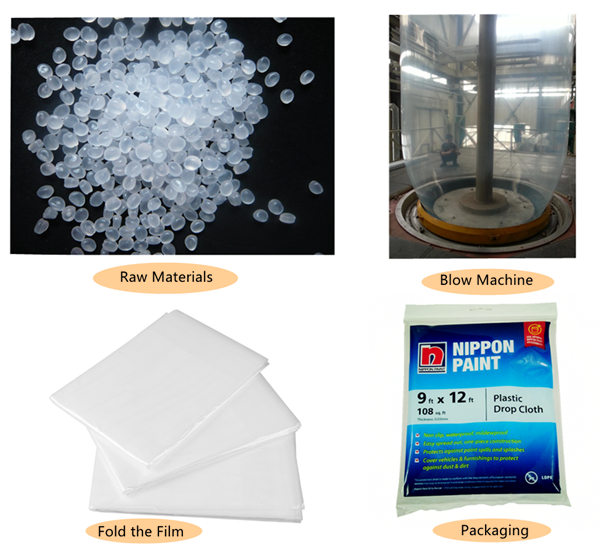 Preparing the Raw Material
The raw material that is used to make this sheet is polyethylene. There is high-density polyethylene (LDPE), low-density polyethylene (HDPE), and medium-density-based polyethylene (MDPE), which is clear, odorless, and tasteless polymer. It's a versatile material that can be produced in large quantities.
Blowing Film
Polyethylene film is generally made by a blow molding process, The melting point of polyethylene is 130℃~145℃. the PE poly particles are heated and melted to blow into film, the molten plastic through the head filter to remove impurities from the die head mold mouth, after blowing, wind ring cooling by the herringbone plate pressure, by the traction rollers to roll the finished film into a tube. The process of blowing vinyl into a poly film can take up to two hours. Different colors of master batch can be added during production to blow out different colors of films. And different widths, thicknesses, are available.
Cutting and Folding
How is the large roll of polythene film made into a drop cloth? Through our patented folding and winding equipment, the film is folded several times, a 4m*5m film can be folded into about 20cm*20cm
Packaging and Shipping
Once it's been cut, then it will be packed in a colorful bag. Then put in cartons. The PE sheet can then be shipped to you or you can take it to your local store.
How Does a Plastic Drop Cloth Work?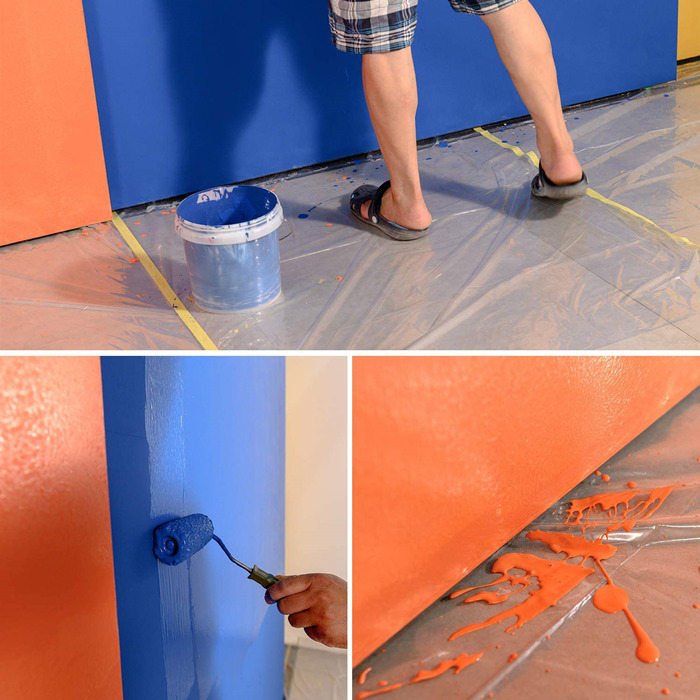 The first thing you should know about these sheets is that they are made of polyethylene. Polyethylene is an industrial-grade material that is made from a chemical reaction of ethylene and carbon monoxide. You can find these sheets in many different sizes. For example, you can find sheets that are 9ft by 12ft or even 12 ft by 100ft.
When you are painting your house, you can use these sheets as they are protecting furniture and walls. If you do not use the protective sheets, then the paint will stain your windows, furniture, accessories, and walls. When you are using the sheets, you should remember that they will not work as a canvas.
You should know that these drop cloths are only waterproof. They are not absorbent. Therefore, you should not use them as a pail to hold paint. Instead, these materials prevent paint spills on your windows, furniture, and walls by covering the surface like a sheet.
What is the Difference Between Plastic Drop Clothes and Canvas
Although the two are both used for the same purpose, to protect your windows, and furniture while you work, they are not the same.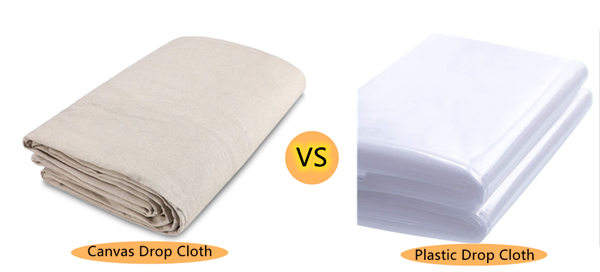 Canvas
Canvas is a woven material that has been used since ancient times. It's a strong fabric made of wool or cotton and is available in many different colors and sizes. In other words, canvas sheets are made of cotton, and they're usually stitched together. They're more expensive than PE sheets, but they're not as durable.
Plastic Drop Cloth
These drop cloths are PE sheets that you can cut to fit any size room. You can buy them in rolls or by the yard and they come in a variety of colors. These sheets are made of a type of plastic that is resistant to UV rays and water. This means that they're able to prevent stain spills and the growth of mold. They're also resistant to mildew, which makes them ideal for use as a protective layer for other materials. They're also great to cover furniture, the floors in the garage, or your workshop and keep them clean and dust-free. Use it for indoor or outdoor projects with no problem.
The Benefits of Plastic Drop Cloths
Another great thing about PE sheets is that they're easy to use. You can cut them to fit any size room, and they're lightweight and easy to handle. They're also easy to clean.
You can use PE sheets to protect your floors while you're painting. They're easy to work with. This means that you won't have to worry about paint smearing all over the floor. You can also use them as a canvas for painting and stenciling projects.
A Guide on Using Polyethylene Plastic Drop Cloth
To start using this PE sheet, you first need to cut it to the right size. The drop cloth should be as big as the area that you want to cover, but if you have a larger area that needs to be covered, then just cut the sheet a little bit bigger. Then you will need to put a layer of PE sheet under your paint or glue. This will prevent it from sticking to the tiles and instead make it stick to the PE sheet.
The Placement of the Plastic Drop Cloth
To prevent your sheets from tearing, you can first place it on the floor. Once it's there, then you can start moving it around to make sure that the edges are smooth and that there are no creases. Then you can cut it in the shape that you want it to be. You can make it into squares, rectangles, or even triangles. Once you've cut it, then you can place it on the surface and move it around until it is smooth.
Once you've finished painting, then just take the PE sheet and place it on the surface again. You can use a damp cloth to wipe it down. Then you can use a squeegee to remove any extra dirt you may notice. This will make it easy for you to wipe the surface clean. Then you can leave it there until it dries.
Where Can We Buy Plastic Drop Cloth?
You can purchase this sheet from many different stores. It's also very easy to purchase these products at a home improvement store everyday low prices. You can purchase them in the houseware departments. You can even purchase them in your local supermarket or hardware store. You can even make online orders, they are available on Amazon and choose the same-day delivery option.
Things to Consider When Choosing Plastic Drop Cloth
There are many different types of PE sheets available on the market. They are all manufactured in different ways and come in different sizes. It's important to make sure that you choose the right product for your home before purchasing it. Here are some things to consider when choosing a drop cloth:
Type
Plastic is the most common type of drop cloth. It's also the most affordable, easy to use, and most durable type of PE sheet. It can be used for painting or other types of decorative work.
For the other types of sheets, you can also choose a canvas dropcloth, lined with plastic drop sheet underneath, canvas drop cloths can play a better anti-slip effect.
Size:
The size you need depends on your home's size. It's important to choose the right size for your home. If you're not sure what size of sheets you need, measure the length and width of your room. If you want to use it as a temporary wall covering, make sure that it is large enough to cover the wall. The type of sheets you choose will also affect their size.
Thickness:
You can choose PE sheets of different thicknesses. If it is disposable and discarded after use, you can choose a thickness of 1 mil or less than 1 mil. If you want to reuse it many times or use it in the greenhouse, you can choose 3 MIL or thicker, you should also consider the cost of the product, A thick sheet can be very expensive, and a thin sheet can be much cheaper.
Conclusion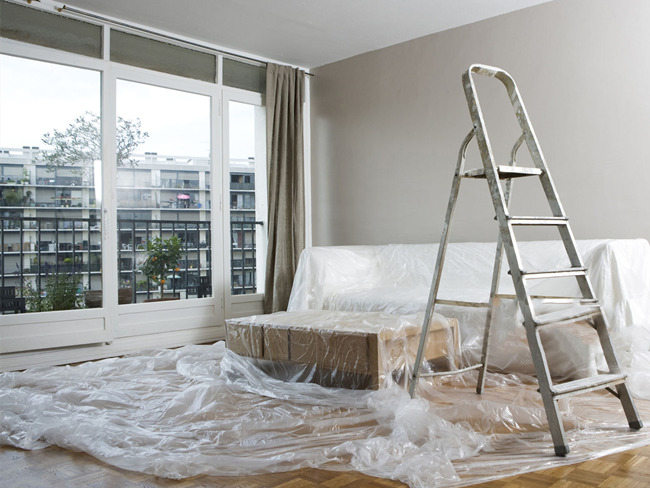 It is no secret that painters and decorators always use PE sheets. The reason why they use them is that they're very lightweight and versatile. The only thing that you need to do is cut the sheet to the right size. Then you can cover the area that you want to protect.
Plastic drop cloth made from polyethylene is a good way to protect your floors. It is also easy to clean and can be used in many different ways. It is not absorbent, but the material is resistant to paint, water, dirt, oil, and more. It works well in a garage or a basement, or when you are renovating your home.